Auto Parts
Used Car Parts Dealer in Dandenong, Springvale, Frankston, Werribee and Noble Park, Melbourne, VIC
Get the quality used auto spare parts on affordable prices. At Ali Wreckers, we are keeping the largest inventory of spare parts of Cars, Trucks, Vans, Utes and Jeeps.
We keep the second hand car parts of all major brands like Toyota, Honda, Hyundai, Holden, Mazda, Nissan, Mitsubishi and Ford. You can just contact us by calling at 04 5591 4643 or 03 8759 1940 or fill out the form on our website and one of our staff members will help you to sort out the spare part for you. Please make sure that you have your vehicle registration number handy because we fetch the exact part details according to the technical specifications of your vehicle.
Affordable Truck Parts for Sale
Cheap Van Parts on Sale
Reasonable 4X4 auto spare parts and accessories in Melbourne
Jeep Parts Available
Used Mazda car parts
Used Mitsubishi car parts
Used Holden car parts
Second hand wheels and Tires
Vintage, Antique, Muscle, Sports & Classic car parts Melbourne Seller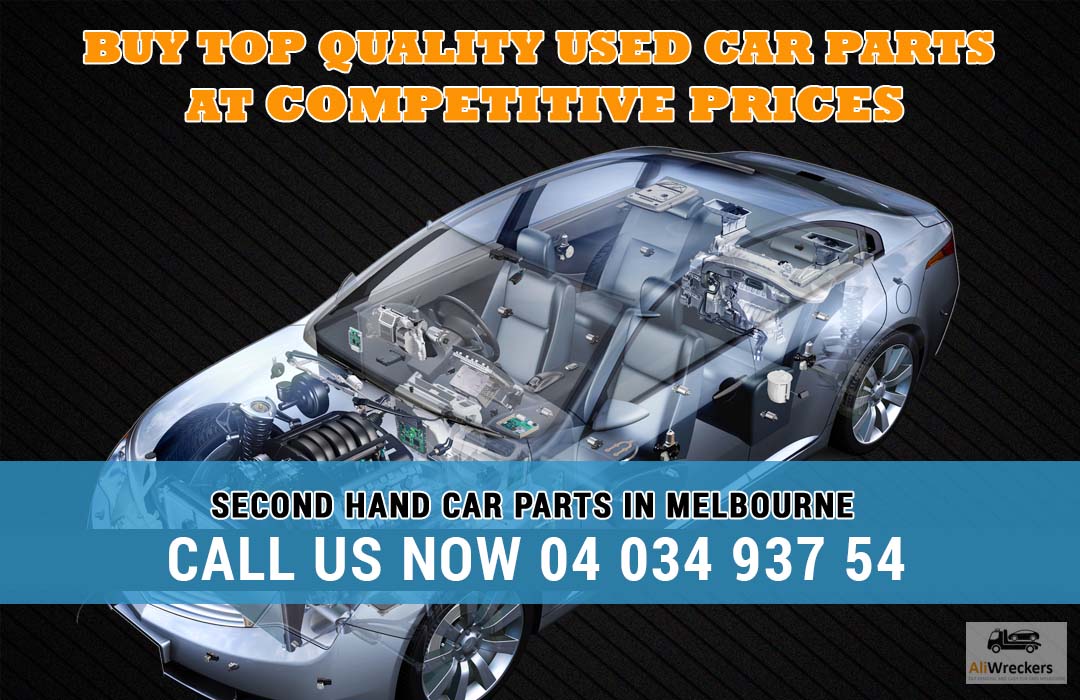 Used Toyota Parts in Melbourne
Get a quality second hand Toyota parts from Ali Wreckers at affordable prices. We sell top quality parts with the warranty. Either you can pick a part of our junk yard or give us a call at 04 5591 4643 or 03 8759 1940 or we will arrange the spare part for you.
Used Holden Parts in Melbourne
Top Quality + Affordable auto spare parts prices. This is what you can expect while dealing with Ali Wreckers in Melbourne. We are offering far cheaper prices comparable to the Holden Dealers. We try our best for the quick availability of the parts, however, sometimes, it can take longer than expected.
Second hand Nissan Parts in Melbourne
Does your Nissan need a replacement part? Feel free to inquire with us. We keep the good inventory of used Nissan auto spare parts. All of our parts are full of quality and warranty. Ring us at 04 5591 4643 or 03 8759 1940 or we will organise the auto part for you.
Used Mazda Parts on Sale
Passionate Mazda Buyers and offer huge range of Mazda auto parts and tyres on cheap prices. As a Melbourne based Mazda car dismantlers, we keep Mazda car parts on sale all the times. Contact us if you need a replacement, aftermarket, mx5 or Mazda eunos presso parts. We can assist you straightaway.
Used Ford Car Parts in Melbourne
Are you driving the strongest machine in the world called Ford? And looking for the replacement auto spare parts on the cheapest prices? Well, there no better place than Ali Wreckers, who got the biggest inventory of Ford parts with genuine warranty.
4×4 Parts in Melbourne
Affordable price, quality and trust. This is what you get when dealing with Ali Wreckers. We sell 4×4 auto spare parts on reasonable prices. Buy the required part now.
Used Van Parts on Sale – Car Parts Online in Melbourne
Get the reasonable price for all Van spare parts with full warranty. Buy the auto spare parts with satisfaction at Ali Wreckers. Ring us at 04 5591 4643 and we will help you promptly.
Used Truck Parts in Melbourne, VIC
Along with the light commercial vehicles, we offer the huge inventory of truck parts for all major make and models. Please call us in advance for all the truck parts inquiries.
Second Hand Japanese Car Parts in Melbourne
Browsing around and needing a replacement Japanese auto part right now? Get in touch with Ali Wreckers and get the auto spare part at affordable prices.
Check out Second Hand Car Parts Adelaide, if you are looking for used auto parts in South Australia.
Contact Used Car Parts Melbourne Dealer Now
Do not get ripped off buying the most expensive company parts while we have the best alternative for you. Second hand car parts with the quality seal is the great option to deal with. It will not only save your money but also save your time. Get the used auto parts by calling at 04 5591 4643 or 03 8759 1940 and we will help you to find it. Our all spare parts are fully tested and we sell with a warranty.
Related Links