Car Wreckers Dandenong, Melbourne, VIC
Get a top cash for cars and other unwanted vehicles if you are living anywhere in Dandenong.
Ali Wreckers is situated at 5 John St, Dandenong, Melbourne, VIC. Bring your junk or scrap vehicle to our junk yards and we will buy that for the top price. The final price will depend on the make, model, age and the condition of the vehicle. However, Dandenong car wreckers VIC do not care about the condition and will buy everything at the possible good price.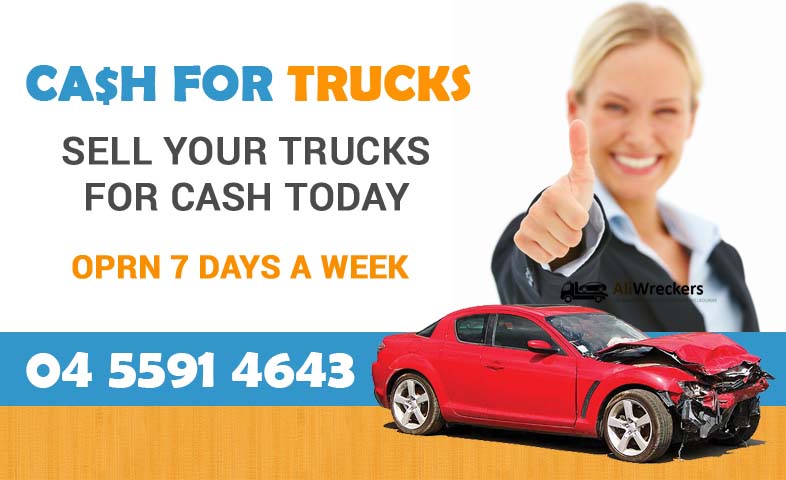 Paying Up to $5000 Cash for Cars, Utes, Trucks, Vans & 4×4's
The proactive wrecking team at Ali Wreckers assess your vehicle and offer the best quote in the town. We offer our quote with guarantee and nobody can beat our price. By any chance if someone does it deliberately then we beat all genuine offers straight to the spot. We always pay the agreed amount in the event of removal of the vehicle from your location. Ask for the payment options in advance because generally we pay cash, but can arrange the bank wire transfer as well.
Buying All Major Brands
Ali Wreckers buy all make and models. Some of our regular and daily brands are Toyota, Ford, Holden, Hyundai, Honda, Mitsubishi and Nissan. However, if you are absolutely not sure about the name of your vehicle then call Ali Wreckers at 04 5591 4643 or 03 8759 1940 and one of our work members will find it for you by the chassis number. Just take the advantage of car and auto wreckers Dandenong.
4WDS and Trucks Wreckers and Dismantlers
We are not limited to smaller vehicles. We also dismantle big vehicles like Vans, Trucks and 4wds. We pay even better cash for trucks and vans. Bring your vehicle to our scrap yards or get in contact with us and schedule an appointment with us to see you at your location and we can assess and pay you on the spot. Ali Wreckers greater Dandenong deal with all major vehicles.
Offering Free car removal anywhere in Dandenong, Melbourne, VIC
We offer FREE vehicle removal anywhere in Dandenong, Melbourne. Generally, we process the same day removal, however, sometimes, it can take a next day. Just depends on the business. We can also remove the vehicle from the mishap location so you can simply call us if you have engaged into the accident or other mishaps. We will help you straightaway. If you are looking for Car Wreckers Cranbourne then feel free to call us because we cover that region for the free removal as well.
We are easy to contact
Contacting Ali Wreckers is very easy. It happens in simple followings steps:
Give us a call at 04 5591 4643 or 03 8759 1940.
Or Fill the form on our website.
Explain your vehicle make, model and age.
Get the Quote and Book the free removal.
Get your vehicle removed for no charge.
Get paid on the spot.
Please contact Ali Wreckers if you have more questions about our services, we would be very happy to assist you.
More information,
Car Wreckers Melbourne
Sell Your Car in Melbourne
Wikipedia information in Wrecking Yard.