Home
Car Wreckers Melbourne & Spare Parts Supplier
Melbourne's official Cash for Cars Website
Free Car Removal and one of the most responsive scrap Auto Wreckers in Dandenong, Melbourne.
The Team at Ali Wreckers is proactive with their exceptional auto wrecking services and response time with the fast removal facilities. With more than 20 years of experience, we have enhanced our services and pleased thousands of Melbourne clients. We pay up to $5'000 cash for cars in Melbourne northern suburbs, western suburbs, Melbourne east and Melbourne car supermarket.
Free Car Removal in Dandenong, Melbourne
Furthermore, we offer Melbourne wide FREE Auto Removal services. Our Car towing service is quick and same day removal. Some of suburbs that we deal with on a daily basis are Springvale (Springvale South), Frankston (Olivers Hill, Frankston Heights, Frankston South, Eliza Heights, Mount Erin, Leawarra, Mile Bridge, Frankston East, Pines Forest, Karingal, Baden Powell, Frankston North and Long Island), Mornington (Fishermans Beach, Beleura Hill and Tanti Park), Peninsula, Mill Park, Stonnington (Malvern East, Toorak, Armadale, Prahran, Kooyong, Windsor, Glen Iris, South Yarra and Malvern.), Dandenong (Oakwood Park, Dunearn, Dandenong North, East and South, Cleeland and Dandenong Plaza), Endeavor hills, Kingston (Heatherton, Bonbeach, Parkdale, Cheltenham, Mentone, Clayton South, Chelsea, Aspendale, Waterways, Highett, Clarinda, Carrum, Edithvale, Aspendale Gardens, Mordialloc, Chelsea Heights, Patterson Lakes, Braeside, Moorabbin Airport, Dingley Village and Moorabbin), Bundoora, Sunshine, Berwick and Clayton (Clayton North, Petersville, Westerfield and Whitburn) + much more.
Please ring us to confirm your location. If you are living in other suburbs, you can still give us a call at 0403493754 or 0387591940 and we should be able to help you. Get up to $5'000 cash for cars, Jeeps, trucks, vans and Utes. Find out more about Car Wreckers Dandenong.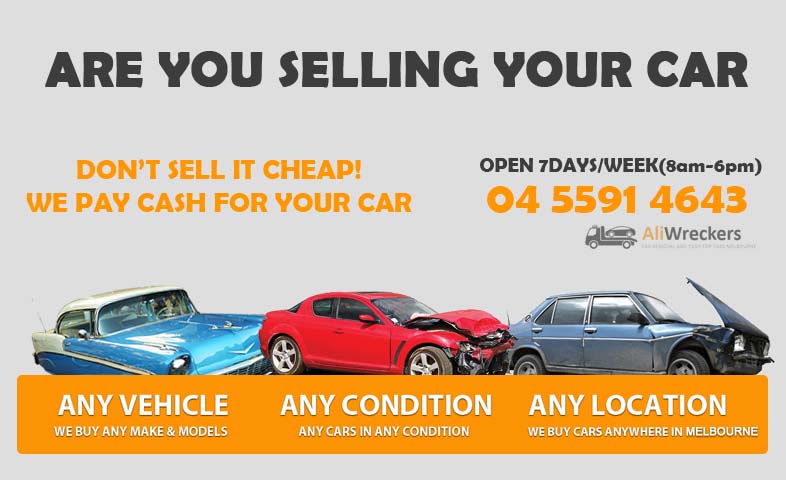 Buying all make and models in every condition
We buy all make and models of cars, vans, jeeps, 4X4's, trucks and SUV's. We deal with Toyota, Mitsubishi, Hyundai, Nissan, Holden, Ford and Mazda. Get more details at Japanese Wreckers Melbourne.
Our Toyota Wreckers Melbourne team deal with the Toyota Corolla, Rav4, Prius, Land Cruiser, Camry, FJ Cruiser, 4Runner, Yaris, Sienna, Avalon, Venza, Sequoia, Pickup, Supra, Matrix, Previa, Celice, Echo, Paseo, MR2 Spyder and T100.
The crew at Mazda Wreckers Melbourne team deal with Mazda CX-5, Mazda 2-3-4-5-6, MPV, Speed3, RX-8, RX-7, Tribute, MX-6, Millenia, Protege5, Navajo, Cronos and MX-5 Milata.
Our Holden Auto Wreckers Melbourne team deal with Holden Viva, Kingswood, Torana, Sunbird, Suburban, Frontera, Premier, Rodeo, Berlina and Colorado etc. Get more information about Holden Car Wreckers Melbourne.
Our Car Wreckers Melbourne Mitsubishi team deal with Mitsubishi Outlander, Lancer, Mirage, Outlander Sport, 3000GT, Endeavor, Montero, Galant, Diamante, Raider and Precis.
At Ali Wreckers, Nissan Car Wreckers Melbourne staff deal with Nissan Pathfinder, Rogue, GT-R, Murano, Altima Hybrid, Sentra, Quest, Stanza, Versa, Maxima and Cube. Check out more about Nissan Removal Melbourne.
Meet our Ford Dismantlers Melbourne team who deal with Fiesta, Falcon, Prefect, Mustang, Thunderbird, Cougar, Telstar, Granada, Galaxie, Mondeo, Futura, Focus and Fairmont.
Our Hyundai Wreckers Melbourne team deal with Nissan Terracan, Lantra, Presto, Galloper, Accent, Elantra LaVita, iMax, Sonata, Universe, Xcent, Verna, Stellar, PM580, Tucson, Marcia, Porter, Grandeur, FB, Tiburon, Azera, Dynasty amd Elantra.
Along with the different make and models. We buy used, scrap, broken, rusted, junk, accident, fire, damaged, wrecked, salvage, flooded vehicles. Dead or Alive, no WOF, no COF. Contact us if you are living anywhere around northern and western suburbs. Get the trade in cars in Melbourne.
Planning to remove the unwanted vehicle in Clayton and no idea how the free auto removal process works? At Ali Wreckers, we help people to remove the vehicles for free of cost and pay top cash for cars and other unwanted vehicles…
Finally, get the huge range of used car parts in Dandenong, Melbourne. We got the biggest salvage yards in Melbourne, VIC. All of our Auto Parts and Accessories are tested by the auto salvage experts for better performance. You can buy the auto spare parts with satisfaction because we offer 30 to 90 days warranty with almost all the parts. We are selling all major brand parts like Toyota, Ford, Mitsubishi, Hyundai, Holden, Honda, Nissan, Mercedes, Suzuki and Kia etc. Nobody can beat our prices in Melbourne – We beat our competitor's price in a flash as far as the price is genuine. Pick a part in Melbourne or ask for the staff help. Get in touch with us for the vintage, antique, muscle, classic sports cars for sale.
View Ali Auto Wreckers – Car Wreckers Melbourne in a larger map
Dump Your Scrap Car in Melbourne now
Still wondering, how to scrap my car for cash? Call our scrap yards in Melbourne at 0403493754 or 0387591940 and we will organise the FREE pickup of the vehicle from your location. Get a top cash paid for old cars on the spot. Expect a Free junk car removals in Melbourne Metro, northern suburbs Melbourne and eastern suburbs. Are you not sure about your location? We can help you. Get the cash for scrap cars in Melbourne now. Premier Auto Removal Scrap Dealers.
Related Links
Car Wreckers Brisbane
Frankston Car Wreckers
Wikipedia information on Wrecking Yard